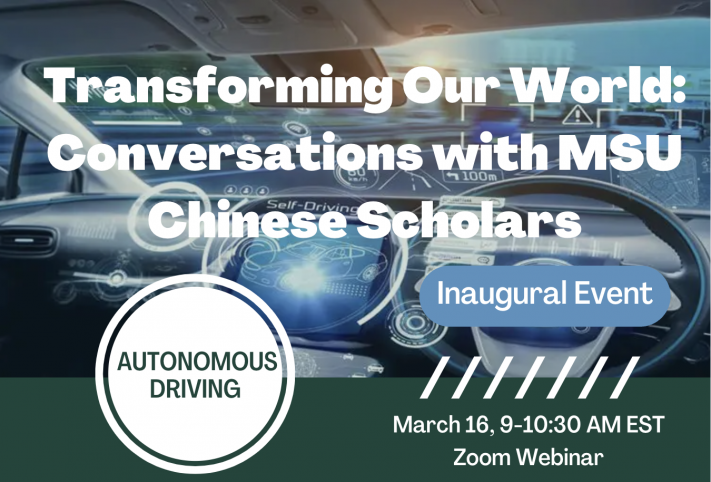 Spring 2023: Autonomous Driving
Thursday, March 16, 2023 | 9:00 - 10:30 am EDT

Inaugural Event: Zoom Webinar
This webinar will focus on recent advances in Autonomous Driving, featuring two MSU engineering faculty, MSU Foundation Professor Xiaoming Liu and Assistant Professor Zhaojian Li and Dr. Wende Zhang, Director of ADAS Sensing and Localization SW at General Motors (GM). The webinar will be moderated by Dr. Xinyu Wu, Director of the Office of China Programs, with opening remarks by Dr. Douglas Gage, Vice President for Research and Innovation at MSU.
Register here to receive the Zoom webinar link.
Moderator:
Xinyu Wu, Director, Office of China Programs, Michigan State University
Xinyu Wu has been in the field of International Education since 2000 and has a strong reputation in establishing and managing collaborative links with internationally reputable universities around the world, including many universities in China. She was appointed as Director of the Office of China Programs (OCP) in 2023. Wu is also the Director of the Visiting International Professional Program (VIPP) at MSU.
Opening Remarks:
Douglas A. Gage, Vice President, Research and Innovation, Michigan State University
Doug Gage currently serves as the Vice President for Research and Innovation, where he oversees strategic initiatives and support for the university's research enterprise and $710 million in annual research expenditures. He is also a professor in the Department of Biochemistry and Molecular Biology. Trained as a plant biochemist and a researcher for more than 30 years, Dr. Gage's research focused on analytical biochemistry and the metabolic engineering of plant biochemical pathways. Mid-career, he leveraged this expertise to serve as the senior director leading the Discovery biomarker effort at Pfizer Global Research and Development in Ann Arbor for six years before rejoining MSU. Gage's additional leadership roles include serving as co-chair of the research implementation work group of the MSU Strategic Plan 2030, and as research chair for the new partnership with Henry Ford Health. He also sits on the board of the MSU Research Foundation, the Southern Astrophysical Research Telescope (SOAR) in Cerro Pachón, Chile, and several MSU governance groups including the executive space committee and the Century Bond steering committee. 
Panelists:
Zhaojian Li, Assistant Professor, Department of Mechanical, Michigan State University
Dr. Zhaojian Li is an Assistant Professor in the Department of Mechanical Engineering at Michigan State University. He obtained M.S. (2013) and Ph.D. (2015) in Aerospace Engineering (flight dynamics and control) at the University of Michigan, Ann Arbor. As an undergraduate, Dr. Li studied at Nanjing University of Aeronautics and Astronautics, Department of Civil Aviation, in China. Dr. Li worked as an algorithm engineer at General Motors from January 2016 to July 2017. His research interests include Learning-based Control, Nonlinear and Complex Systems, and Robotics and Automated Vehicles. He is the author of more than 40 top journal articles and several patents. He is currently the Associate Editor for Journal of Evolving Systems, American Control Conference and ASME Dynamics and Control Conference. He is a senior member of IEEE and a recipient of the NSF CAREER award.
Xiaoming Liu, Professor, Department of Computer, Michigan State University
Dr. Xiaoming Liu is the MSU Foundation Professor, and Anil and Nandita Jain Endowed Professor at the Department of Computer Science and Engineering of Michigan State University (MSU). He received Ph.D. degree from Carnegie Mellon University in 2004. Before joining MSU in 2012 he was a research scientist at General Electric Global Research. He works on computer vision, machine learning, and biometrics especially on facial imagery analysis and 3D vision. Since 2012 he helps to develop a strong computer vision area in MSU who is ranked top 15 in US according to the 5-year statistics at csrankings.org. He has been Area Chairs, Program Chair, and General Chair for numerous conferences. He is an Associate Editor of Pattern Recognition and IEEE Transaction on Image Processing. He has authored more than 200 publications, and has filed 29 U.S. patents. His work has been cited over 20000 times according to Google Scholar, with an H-index of 69. He received the 2018 and 2023 Withrow Distinguished Scholar Awards from MSU. He is a fellow of The Institute of Electrical and Electronics Engineers (IEEE) and International Association for Pattern Recognition (IAPR).
Wende Zhang, Director, ADAS Sensing and Localization SW, General Motors
Dr. Wende Zhang is the director of ADAS Sensing and Localization SW at General Motors (GM).   He first joined GM as a senior researcher in 2005, and has since worked as a tech specialist, BFO (BOM Family Owner) of viewing systems, BFO of lidar systems and Technical Fellow of Sensing Systems.  Zhang was the technical lead on computer vision and the embedded researcher in the GM-Carnegie Mellon automated driving team that won the DARPA Urban Challenge in 2007.  Holding 100+ patents related to safety related technology, Zhang has worked on the award-winning safety technologies including the 360⁰ View System, Rear Camera Mirrors, Super Cruise, and Invisible Trailer with GM highest technical awards (Boss Kettering Award) 4 times in 2016, 2017, 2018, and 2020.  Zhang received his master's degree and Ph.D. in Electrical and Computer Engineering from Carnegie Mellon University and an MBA degree from Indiana University. 
This series is co-sponsored by the Office of China Programs, the Office of Research and Innovation, and Chinese Faculty Club.