China's education, especially higher education can play its own special role in the One Belt One Road Initiative.

---
The alliance proposed by Tsinghua University will
not limit to any specific areas.  It includes scientific research, education, academic and other panoramic all-round promotion of Asia's higher education.
---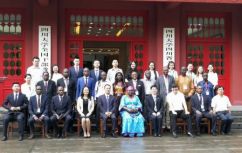 In September 2017, Sichuan University welcomed a group of government officials from Guinea. The delegation came to Sichuan University for a short-term training program on government administration and affairs. During the same time, a team of Sichuan University research scholars and administrators went to Nepal to share development experiences with their counterparts in Nepal.