Chinese Consul General Hong Lei Visited MSU
Consul General Hong Lei of the Chinese Consulate General in Chicago visited Michigan State University on October 5 and October 6, 2017, along with Education Counselor Chen Yinghui, Consul Chen Hao and Consul Jin Lei. The visit was mainly to promote stronger roles of universities in Chinese students' health and safety while studying in the U.S. On October 6, Mr. Hong Lei met the leaders of the Office of China Programs, Confucius Institute, Office of International Students and Scholars, Education Abroad and Associate Provost and International Studies and Programs Dean Steven Hanson. He also met with President Simon and Provost June Youatt. The Consul General and his team gave a safety and security seminar in the Kiva of Erickson Hall. Mr. Hong also delivered a public speech to MSU students and faculty in the College of Business, titled "China's New Development and China-US Relations in the New Era. "
Consul General Hong began his two-day visit by going to the Office of China Programs (OCP) and meeting with Director Qi Jiaguo and Senior Assistant Director Qing Xia. Dr. Qi introduced the current functions and future vision of OCP, emphasizing Asia Hub and strategic priorities in working with China. Director Qi also discussed the challenges that MSU has been facing, primarily with finding ways to help Chinese undergraduate students in their transitions to MSU during their freshman year. Mr. Hong agreed and expressed appreciation of all of the efforts and dedication that OCP has put into promoting cooperation and communication between China and MSU. He hoped OCP would continue taking the responsibility and leadership to provide better services for Chinese students, and to protect their safety. He recommended increasing the number of advisors with Chinese background, as it will better serve the Chinese students. He believed that the foundation of cooperation between China and the U.S. is solid and promising.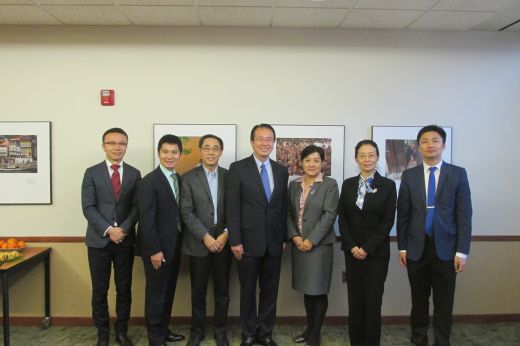 Consul General Hong then visited MSU's Confucius Institute (CI) and exchanged opinions with the Dean of the College of Education, Dr. Robert Floden, the Director of Confucius Institute, Dr. Lynn Paine, and also greeted the CI staff. Dr. Floden introduced recent collaborations in education research and future strategies to expand the dialogue with Chinese universities. Dr. Paine introduced CI's current functions and partnerships with China in both academic training and cultural understanding. Hong spoke highly of the achievements of MSU's CI and the College of Education. He believes that CI is the engine for enhancing the cultural communication between China and the U.S. He wishes that with extensive and intensive cooperation with China, CI could play an increasingly significant role in deepening the international world's understanding of Chinese culture.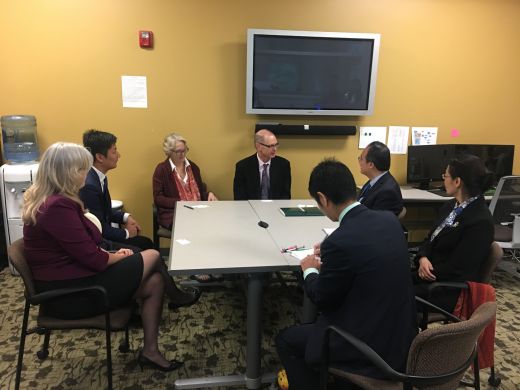 Hong then met with Steven Hanson, Associate Provost and Dean of International Studies and Programs (ISP), Siddharth Chandra, the director of Asian Studies Center, James Dorsett, the director of Office of International Students and Scholars (OISS) and Inge Steglitz, the director of Office of Education Abroad. Hong listened to the introduction of various Chinese related programs hosted by MSU, including services to Chinese students, education abroad programs in China, and collaborative programs between MSU and Chinese universities. Hong expressed his appreciation in MSU's active role in helping Chinese students adjust to life in the U.S., and pointed out that nothing is more important than the students' safety, both physically and psychologically. The group also shared their opinions on the challenges MSU is facing in providing academic and health services for international students. Hong gave examples of good practices by our peer university (Missouri State University) in setting up special advising teams for Chinese undergraduate students. Dr. Hanson said that MSU has taken the issues and challenges seriously, with safety as the top priority.  Future actions include strengthening the orientation program for international students, providing more training, and new safety initiatives from OISS and other offices. He said MSU welcomes advice and help from the Chinese Consulate.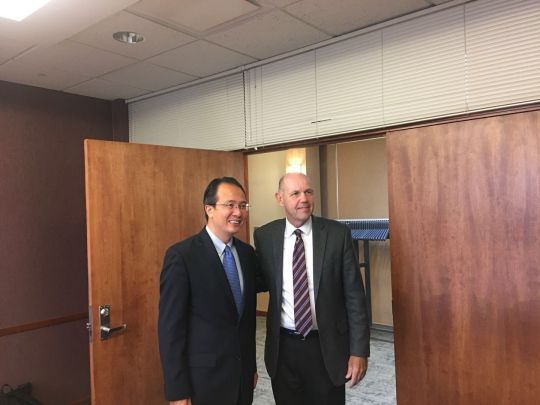 Regarding education abroad, Hong agreed that it is equally important to increase the number of American students going to study in China as well as Chinese students coming to the U.S.  Only mutual relationships and understanding can promote communication and interaction, and break down the barriers.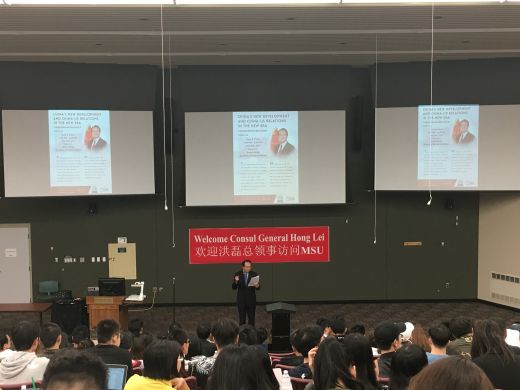 Hong Lei's speech
Over 500 students, staff and faculty warmly greeted Mr. Hong and his speech in the College of Business. Students raised questions about jobs in the U.S., China-U.S. relations and its impact on overseas Chinese students, China's One Belt One Road strategy; safety in the U.S., and much more.
In addition to meeting with MSU departments, Mr. Hong's team met with representatives from the Chinese Students and Scholar's Association (CSSA) and the Chinese Faculty Club (CFC).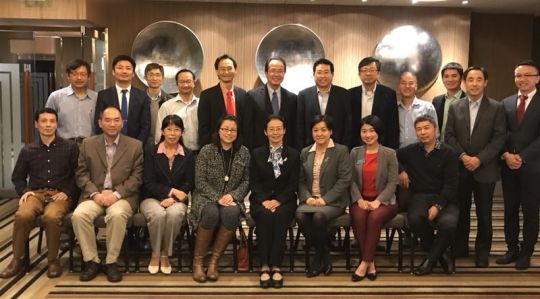 Mr. Hong and Ms. Chen meet with Office of China Programs and Confucius Institute scholars and staffs
(Contributed by Chunyu Guo)