On November 29, 2017, Asia Hub-Agriculture launched at Nanjing Agricultural University. Joined by a delegation from Michigan State University, more than 200 NAU faculty, staff, students, and leadership team members attended the launch ceremony. MSU Provost Youatt and NAU Vice President Hu Feng delivered congratulatory remarks. Researchers from partner institutions of Cambodia, Indonesia, Italy, Myanmar, Nepal, and Thailand also attended the ceremony.
---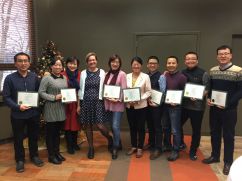 Seven faculty members from Nanjing Agricultural University have wrapped up their visit at MSU in this week. It has been a very busy and productive semester for them. They came to MSU in August as the first group of NAU faculty to learn and observe Teaching & Learning in U.S. higher education. They have went through series of workshops of teaching and learning, sitting in undergraduate classes, and discussing curricula with counterpart MSU faculty.
---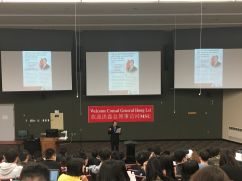 Consul General Hong Lei of the Chinese Consulate General in Chicago visited Michigan State University on October 5 and October 6, 2017, along with Education Counselor Chen Yinghui, Consul Chen Hao and Consul Jin Lei. The visit was mainly to promote stronger roles of universities in Chinese students' health and safety while studying in the U.S.
---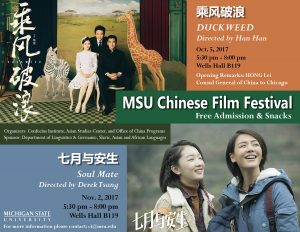 On October 5, 2017, the MSU Chinese Film Screening and Discussion Forum premiered in Wells Hall. The forum is sponsored by MSU's Confucius Institute, the Asian Studies Center, the Office of China Programs, and the Department of Linguistics & Germanic, Slavic, Asian and African Languages. The theme of the film series and forum is "Exploring Relationships in Modern Chinese Films."  Consul General Hong Lei, the Chinese Consulate General in Chicago, was scheduled to be on campus for an official visit, and attended the event.
---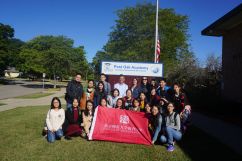 On October 1,2017, a group of undergraduate students from the Beijing Normal University (BNU) of China majoring in education came to MSU's College of Education, for a 9-day communication program. The short-term program is to enhance the communication between China and U.S. academics in education. Students hoped to get practical knowledge and first-hand experience about U.S. educational systems, through observation and inspection.
---
On October 29, the first "MSU Executive Forum" in Shanghai was held at JW Marriot Hotel Shanghai at the Tomorrow Square. The MSU Eli Broad College of Business Dean Sanja Gupta hosted this event.