A Spartan since 1998, Qi was appointed the director of the Office of China Programs (OCP) in 2016. Qi is also currently serving as director of MSU's Center for Global Change & Earth Observations (CGCEO) and a professor in the Department of Geography in the College of Social Science.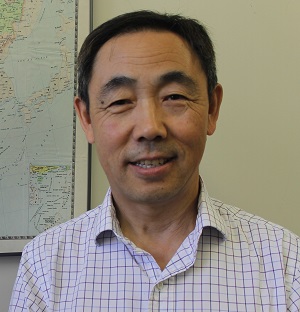 Qi has 22 years of research experience in several technical areas critical to global change science. His research focuses on integrating biophysical and social processes and methods to understand land use and land cover change, and transforming data into information and knowledge.
As director, Qi led CGCEO in several large-scale research efforts to quantify impacts of climate change on ecosystems services and functions, including grasslands carbon sequestration and greenhouse gas emissions as well as agricultural yields production. Under his leadership, the center has been awarded millions of dollars in support global change research.
His most recent developments include innovative approaches to integrate human, environment and climate to understand the coupling nature of human and environment for sustainable development in developing countries in East and Southeast Asia, Central Asia and East and West Africa.
Qi earned his PhD in soil and water science from the University of Arizona.
Qi's role as director of OCP entails carrying out President Simon's vision of "World Grant" in China and Asia by spearheading strategic research initiatives and continuing many functions that have well established since the inception of OCP more than 10 years ago.